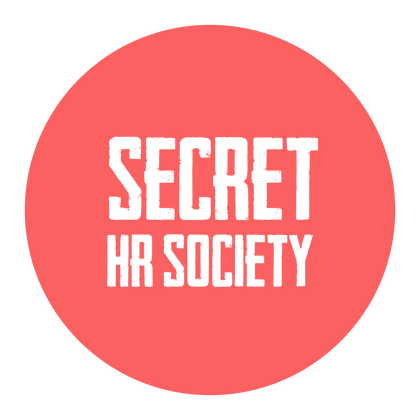 The referral-only community of forward-thinking HR professionals.
About Us
The Secret HR Society is a member referral-only society to evolve Human Resources and connect thought leaders globally. Founded in October 2015, Anna Ott and Hilary Klassen realized that we need to change the perception of Human Resources to become valuable partners in modern organizations.As of Winter 2022, we are +1,5k members exchanging knowledge over slack, meeting virtually and in person (mostly in Berlin). Our members represent both tech startups and large corporates and the community has expanded internationally.Our aim is to establish a close network of peers via online and offline channels to share our knowledge, collaborate, step out of our comfort zone, test our ideas, and challenge and inspire each other as we create a better HR function.
Our past Meetups & Workshops
To give you a flavor of what we talk about during our meetups & workshops, you will find below a short overview of some of them. If you may be interested in hosting and/or sponsoring one of them in the next future, please contact us.
| When | Title | Sponsor / Host |
| --- | --- | --- |
| May 2021 | Meetup HR Topic 1 | Company #1 |
| Oktober 2021 | Workshop HR Topic 2 | Company #2 |
| June 2022 | Meetup HR Topic 3 | Company #3 |
Networking Formats
SLACK
This is our main communication platform where we share ideas, links, articles and everything HR related that might be interesting for the rest of the society. To make it less noisy, we've set up different channels for every important topic and it' amazing to see the power of our group know how when members post questions at get an immediate response.MEETUPS
Every 6-8 weeks, we'll meet in person, speak about current projects, share thoughts and network with other society members. If you may be interested in hosting and/or sponsoring one of them in the next future, please contact us.WORKSHOPS
Whenever a society member has a specific topic that requires a more in-depth discussion and know-how sharing, we'll set up a small workshop session open for every member interested and familiar with the topic at hand. If you may be interested in hosting and/or sponsoring one of them in the next future, please contact us.
Membership
To maintain a high-value, expert-driven community of innovative HR specialists, we decided towards a referral-based membership. If you're interested in joining our society and sharing your know-how with other HR experts, get in touch with an existing member.An overall requirement will be that you have at least 3-5 years experience in HR functions and have proven to be a modern, innovative mind and willing to support our peer group.
Our Guidelines & Values
The Secret HR Society was founded in 2015 and is an exclusive community that is only open to HR professionals who existing members have referred. This ensures that our members are seasoned HR leaders committed to driving innovation and growth within the HR industry.As a member of the Secret HR Society, you now have access to a private Slack channel to connect with fellow HR leaders. You will also have the opportunity to share your knowledge and expertise with your peers, ask for advice and best practices, and collaborate on projects.In addition to the Slack channel, our society hosts regular virtual sessions and in-person events. These events allow members to build meaningful connections.We ask our members to contribute in line with our community values:- Respect : All members should be treated with respect, regardless of their beliefs, backgrounds, or experiences. This includes refraining from using offensive language or engaging in personal attacks.- Inclusivity : The community should be welcoming and inclusive to all members. This includes making an effort to understand and respect different viewpoints and experiences.- Responsibility : Members should be responsible for their actions and words within the community. This includes being accountable for any content that they post and ensuring that it is appropriate and respectful.- Collaboration : The community should foster collaboration and encourage members to work together towards common goals. This includes being open to feedback and suggestions from others.- Growth : The community should be a place where members can learn and grow. This includes being open to new ideas and ways of thinking, as well as being willing to help others learn and grow.We don't tell you what to share, when or how. But we ask you to be a valuable member of the Society by finding your individual communication channel, may it be slack, email or face-to-face and interacting with other society members. Topics should evolve around anything HR and everything that shapes the development of modern Human Resources in fast-growing industries and companies.The Power of our Society is built on a fast, high-quality exchange of ideas, questions and collaborative learning about new HR technologies, trends and approaches. It is also, naturally, a community where everyone can rely on the confidence, trust and professionalism of other members.Since we are open to freelancers, solo entrepreneurs and founders of HR-driven companies, we kindly ask you to not use this society for sales and promotion. If any kind of business evolves through contacts within the society, we're cool as long as we don't get complaints about members trying to sell their services or products to others in a pushy way.Be kind. Be open. Be professional.And share your know-how so every one of us can reshape HR wherever we work.
Contact Us
If you may be interested in hosting and/or sponsoring one of them in the next future, please drop us a message to discuss this opportunity in detail. Alternatively, send us an email at info@secrethrsociety.com.